PIGGY - Escape from pig horror 1.0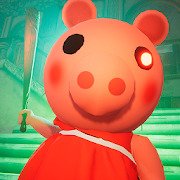 5.0

1.0

74 mb
3 258

17-04-2020, 18:28
Download
PIGGY - Escape from pig horror for Android is horror, in which users have to fight for their lives. You'll find yourself in a closed house where a strange pig named Piggy has placed you. Start to act, find different items, solve different puzzles and try to get out of this house before Piggy kills you. Try yourself under extreme conditions, don't stop working out different escape plans and use every opportunity that will turn up to regain your freedom and save your life.
Graphics and the gameplay process:
The graphical shell of the application is presented in a pleasant style. Everything looks decent and creates the right atmosphere. The Gameplay process will give users complete freedom of action. Start studying the location on which you found yourself and do not relax for a moment, because the mumps will constantly do everything possible to ensure that you at least do not run away.
Features:
Cool graphics
Freedom of action
Entertaining gameplay
And much more.
How to install (update)
Install Split APKs Installer;
Launch SAI and click "Install APK", then select the downloaded zip archive or .APKS file;
The application must install successfully, after which you can play;
If errors occur, write in the comments, we will be happy to help you.
Download PIGGY - Escape from pig horror 1.0 for Android