Dragons: Miracle Collection 2.0.12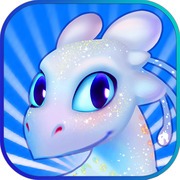 4.4

2.0.12

70 mb
1 690

8-03-2020, 14:15
Download
Dragons: Miracle Collection for Android is a funny clicker. Here users will be able to breed dragons. Combine the same species to create new ones. Launch your pets and they'll fly in a circle, bringing in coins for each completed flight round. Buy upgrades and items for your dragons. Add to your collection and just keep yourself busy in your spare time or on sad evenings.
Graphics and gameplay: 
Graphic content in a drawn style and filled with a pleasant color scheme. A nice image will lift your spirits every time you launch the application and will stay in your memory for a long time. The gameplay is quite simple. Combine the same species, get new ones and move your existing dragons to the flight deck to get coins and continue discovering new species.
Features:
Cute Graphics
Harmless gameplay
Simple mechanics
Various tests
How to install (update)
Install Split APKs Installer;
Launch SAI and click "Install APK", then select the downloaded zip archive or .APKS file;
The application must install successfully, after which you can play;
If errors occur, write in the comments, we will be happy to help you.
Download Dragons: Miracle Collection 2.0.12 for Android